On September 12th, Crown Point, Indiana will hold one of the most stacked local MMA cards of the year. Keith Wisniewski, Justin Wisniewski, and Mark Burch will be presenting the Duneland Classic VI, featuring fighters such as Josh Shockley, Darren Elkins, Jared McMahan, John Kolosci, Scott Sands, Yusup Saaduliev, Charles Wilson, Eric Oria, and many more. The Wisniewski brothers have been known to put on exciting and fun events with important fights for each fighter's careers. Last year we saw Steve Reyna knock out Craig Kaufman; Jared McMahan TKO Elton Chavez, and in the main event, heavyweight Mark Burch deliver a devastating knee to earn a KO victory over Alex Rozman.
This year, there are plenty of exciting matchups such as Pan Am champion Yusup Saaduliev facing off against Charles "The One" Wilson; a local gym rivalry among Team Corral and Torres Martial Arts where 12-0-1 Jared McMahan of Team Corral takes on pro newcomer Eric Oria of Torres Martial Arts; and in the main event, coming off of a 50 second win in Russia, Josh Shockley of Duneland Vale Tudo vs Jeff Green of Extreme Martial Arts.
One fight to stick out on this action packed fight card, is Ultimate Fighter/UFC vet John Kolosci vs 4-0 Scott Sands, along with being the predicted (Matt Giancarlo) fight of the night.
Three years ago, Indiana native John Kolosci managed to do something that several fighters have tried to do. It was something that would change his career forever. Since the very first episode of "The Ultimate Fighter" aired on Spike TV in 2005, it launched the UFC to a mainstream level, and had fighters all over the world trying to get a spot on the show, to live in the "TUF House", and earn a shot at fighting in the world's most famous MMA promotion – the UFC. John Kolosci landed a spot on "The Ultimate Fighter 6: Hughes vs Serra" where he went from being known by locals, to being known internationally. Two years later, after several injuries and three fights since the UFC, John Kolosci finds himself back in Indiana training for a fight that can put him back into a promotion such as the UFC, where he is set to face off against Cedar Lake, Indiana up and comer Scott Sands.
Catching up with Duneland Classic co-promoter and MMA fighter Keith Wisniewski, he gave some insight on the upcoming fight.  Wisniewski was asked why the matchup between John Kolosci and Scott Sands was made.  His response:
"The fight makes a lot of sense for us as an organization.  They are both big names and big draws in the area.  It pits a big name veteran against an undefeated up-and-comer.  Will definately be Sands biggest fight to date, and Kolosci's toughesttest since his stint with the UFC."
Keith Wisniewski along with his brother Justin have been promoting several shows, and have proven to put together entertaining cards that have in the past featured fighters such as Eddie Wineland, Dan Hornbuckle, Mark Burch, and Kevin English.  When asked what made this match up stand out in the card, Wisniewski replied:
"I think this is one of five headline bouts on the card, all of which I feel are compelling match-ups.  Kolosci and Sands have very similar styles, with both being dominant top postion fighters.  Stylistically, this could make for a war with a great deal of stand-up action and scrambles."
Keith was also asked why the fans should want to see a fight between John Kolosci and Scott Sands, in which he said:
" With as big of fan bases as these two have, I'm expecting a lot of energy for this bout.  I'm predicting a back and forth war, and I'd be very suprised if it ends before the 2nd round."
Training MMA full time, John Kolosci has experienced the big stage first hand, andis devoting everything he has to climb back up that ladder.  So far, being undefeated since his time with the UFC, he has been on the right track.  Kolosci, representing L.A. Boxing (Merrillville, IN) and Gilbert Grappling, is set to face off against his biggest challenge since being with the UFC. 


(Photo by Thomas Rozdzynski)

 John Kolosci was recently interviewed for this article, where he talks his UFC experience, training, andupcoming fight with Scott Sands. 
Matt Giancarlo speaks with John Kolosci:
How has your fighting career been going for you since you were on The Ultimate Fighter?
 – Well, I had about a 15 month layoff soon after the finale, when I tore a ligament in my elbow training for a fight the following spring. I was supposed to do another month of rehab on my own after the 2 month therapist lead therapy, but decided to train again because I felt good. Big mistake, as I tore it again. That was about August of last year. So, I did 2 more months with the therapist and 2 more months on my own to make sure it was healed. I started training again in late November 2008 and now I've had 3 fights this year and have won them all. So, it hasn't been optimal since The Ultimate Fighter, but my drive and determination has never wavered.
What has the UFC experience done for you?
 – It's opened up a lot of doors for me as far as sponsorships, training, teaching and fighting go. It has opened my eyes to the level of training that is required to compete at that level and it's given me a chance to quit working full time and dedicate my self to training full time.
What does it mean for you to return to the Duneland Classic?
 – Keith and Justin are probably the two nicest guys in all of MMA. I love those guys and I'm very happy to fight for them as they always put on a great show. They do their best to put on even match-ups and you always leave a DunelandClassic pleased with the fights. I'm happy to be fighting there again. Should be fun…
What do you know about your opponent Scott Sands?
 – Not much, but over the past few weeks I've heard he is a good wrestler, he is a great wrestler, he is an awesome wrestler, he is the greatest wrestler to ever walk the planet:-) So, I take it he knows how to wrestle. Good thing is I'm not wrestling him, I'm fighting him in MMA. Doesn't really matter to me, as I train very hard in all areas of MMA and my wrestling isn't that bad either. I train with VERY GOOD wrestlers at Gilbert Grappling, so I doubt he'll show me anything I don't see every week in the gym.
What makes Scott a good opponent for you to face?
 – I'm just looking to stay busy, I'm not sure what kindofindividual would be a "good opponent to face". Keith Wisniewski called me and asked me if I'd like to fight a guy named Scott Sands and I said sure. I didn't know him, but I was told he was a tough kid and a good up and comer, so why not.
What is your training camp like for this fight?
 – It's like my last few training camps, tough as hell. I'm putting in a whole lot of hours at Gilbert Grappling and LA Boxing (Merrillville IN) every single day. I train as if I'm fighting St Pierre every fight, because I don't want to lose and my goal is to get back to the bigger shows. I train 2-3 times a day every day and take time off when my body needs it. I have a wrestling coach, jiu jitsucoach, boxing coach, muaythai coach and a strength and conditioning coach, so it's been very cool. I've gotten very good at listening to my body, as I used to overtrain quite a bit. I'm feeling fantastic right now and I'm at the top of my game.
What are you doing to prepare yourself for someone with Scott Sands' wrestling caliber?
 – Nothing different. As I said, I train at Gilbert Grappling with college level wrestlers every week. I train my ass off for every aspect of MMA, as I want to be as well rounded as possible. I feel comfortable everywhere, standing or on the ground, whether on top or off my back. I feel I can finish a fight anywhere right now.
What would defeating Sands do for your future?
 – I'm not sure. I don't believe he's well known outside the local circuit. I think it would be a good win on my record and I would just keep pushing forward looking for more fights. I'm fighting the local circuit to get back to the big shows and also learn new things about myself and my training regimen. I've tweaked my diet and training just a bit after each of my last three fights and feel I'm on the right track. This will just get me one step closer and hopefully be a good learning experience, everything from my training, to my diet, to my weight cut to the fight itself. I always learn something new each fight.
What should fans expect to see on September 12th?
 – A better John Kolosci than they have ever seen. I am constantly improving in all areas of MMA and my training and conditioning has been unbelievable. I plan to push the pace and instill my will in this fight. They should expect to see my hand raised at the end.
 – Before I sign off, I'd like to thank all the people that make this possible. First of all I'd like to thank all of my training partners and instructors at LA Boxing (Merrillville IN) and Gilbert Grappling.  Without all of them, I couldn't compete. A very big thanks to my main sponsor Riot Gear (
riotgearmma.com
), who's support has been tremendous. Also, a big thanks to Aberrant Tattoo and Jordan Family Chiropractic for their sponsorship help. Feel free to check out
http://johnkolosci.com
 for my upcoming fights and thoughts after each fight. Thanks…
_________________________________________________________________________________ 
Witha 4-0 MMA record, stopping 3 of 4 opponents, Scott Sands has been training for the biggest fight he has had in front of him.  Sands started wrestling as a young kid, which eventually moved on to being a top wrestling prospect during high school.  Wrestling for St. Rita H.S. in Chicago, IL, Scott, apart of a 2x state championship winning team, took 3rd place in Illinois his junior year.  With a 48-0 record his senior year, ranked #1 in state andtop 12 in the nation, Scott was disqualified due to an illegal slam in the state bracket, removing him from his chance to become an Illinois state champion.  He went on to wrestling in college at Northern Illinois University, but went through a series of back surgeries which forced him to discontinue his wrestling career.  After healing, he moved onto the sport of Mixed Martial Arts, where he is currently undefeated, looking to gain a fifth victory at the Duneland Classic come September 12th.
Scott's first opponent was a wrestler as well, but as shown in the fight, was not at the caliber of Sands.  After defending a few takedowns, Scott Sands secured a standing guillotine choke which lead to his first victory in MMA.  Next opponent was a first roundvictory as well, where he utilized a classic wrestler's ground and pound, winning by submission due to strikes.  Third fight was a fight with Chris Thomas, where Scott took him down each rounduntilthe judges gave him a decision.  Last, most recent fight was a fight withLeonard Simpson where Sands won via TKO due to knees in the first round, after taking nearly a year off. 
Taking a look back to early July, Scott Sands was featured on a previous article titled "Fighters of 2010" which can be read here.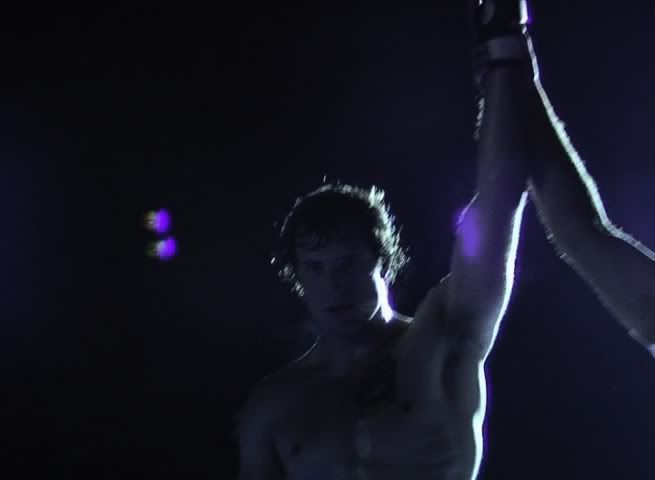 Scott Sands was recently interviewed for this article, where he talks his past MMA experience, training, andupcoming fight with John Kolosci. 
Matt Giancarlo speaks with Scott Sands:
Who is Scott Sands? Tell us about yourself andyour background.
– Well, I've been wrestling since I could walk basically. Once I got to the college level I had a couple of injuries that sidelined me from wrestling. After a year of recovering and coming back I found that my true passion is fighting. One day I did some research on some local gyms and gave them calls. I found Corral's and that seemed to stick. Fighting seemed to make more sense than wrestling at the time, and now I'm in love with it, so here I am.  I'm 4-0 in MMA at the moment and hold a 35-1 submission grappling record.
Your record is 4-0. Tell us about your first four fights and how they went.
– My first four fights were against other guys who were in the same boat as me, who only had a couple fights. I don't think any of them were great at one particular aspect of the sport, so I just kind of used my size andwrestlingability to get through those, but I was never happy with my conditioning. So for this fight, I wanted to try something new and cross train a bit, and focus on my conditioning and standup game.  I'm also cross training withTeamColon to help keep up with my cardio andwrestling, along withFloMMA to work on my stand up.
What seperates you from other welterweights that you have seen in the local area?
– There's a lot of good individuals out there, especially in the Chicagoland area. I think what seperatesme the most is my overwhelming size for 170. I walk aroundat 200-210 pounds. Before my last fight I was actually just under 220. When I cut down there, I'm a guy who's almost 6'3″, 170 pounds withalmost no fat, who's kindofhard to deal with. Andagain, I guess my wrestling ability. So with my size andwrestlingability, I think I'm almost a one of a kind in this area.
What was your most memorable fight and what did you learn about it?
– I'd have to say my third fight, against Chris Thomas. I went into that fight really not training hard, already fought two fights in a row before that, and going into that fight I was supposed to fight another amatueropponent. So I guess in my head I was kind of cocky anddidn'treally put much time in my training camp, but the day of the fight I found out that my guy backed out andI got a last minute replacement who turned out to be a pro withoverthirty fights. I wasn't nervous, but I knew my conditioning wasn't there, so I was going to have to win on will if it went past the first round. I showed everybody that even though I was in bad shape, I landed over fifteen takedowns and wasn't in danger once. I won soley on heart, and I think thatsanimportant part of the game. When both fighters are tired, it comes down to who wants it more, who's mentally tougher, and who's got the bigger heart, and I think I showed that.
What do you know about your upcoming opponent John Kolosci?
– To be completely honest, I don't know too much about him. I've heard about him and have seen a couple of his fights, and has fought some of the best guys out there and is obviously not afraid to get in the ring with anybody. I know he trains at Gilbert's, so I'm assuming his wrestling is up to par. He teaches at L.A. Boxing so I'm betting he has some good hands. He sounds like a well rounded fighter, so it will make things interesting.
What makes John Kolosci different than your previous opponents?
– He's probably the first well rounded fighter I've had. Everyone else was very one dimensional. They haven't had many fights against bigger named people, but John has, which is one of the reasons why I'm excited for this fight. I can make a name fighting John Kolosci. I'm not taking him lightly, but I'm not gonna put him on a pedistal because he was on "The Ultimate Fighter" either. He's a good opponent and is a name, but that doesn't mean I'm going to lose this fight because he's been on TV.
What would a win over John Kolosci mean to you?
– It's obviously going to mean more than my other fights, because he is well known. He's been on the show and has had plenty of people tune into watching him. I'm not going to take this fight any different than any other fight though. I'm going to train my hardest, not going to overlook him, but this is the fight that I have been looking for. When I win this fight, I'm not going to be just a local fighter anymore, I'm going to have a name.
Why should the fans be interested in this fight?
– I think it will make the most interesting fight of the night. You have two big guys for their weight classes, two mentally tough guys, two guys who aren't scared to step in the cage with anybody, and two guys who truly believe that they are going to win this fight and have their hand raised at the end. Styles make fights, and we match up pretty good against eachother. We both want this win. He needs it just as bad as I need it, and I'm not going there to lose… And I know damn well he's not. There's going to be fireworks for sure. 
How would you compare yourself to John Kolosci, both similarities and differences?
– Similarities, we're both confident. He's a big name, andI think I'm getting there. We bothwant to get to the next level. He's already been there, but I'm assuming he wants to get back there. It's always been my dream, to make it to the next level. We're bothhungry fighters. As far as differences go, I would say he might be more of a standup fighter than me. I've been working on my standup, but he has a little more experience withit. So I'd say he's more of a stand up fighter than I am, andI'm more of a wrestler. As far as his groundgamegoes, I don't know how good it is, but that's my strength.
What should fans expect to see come September 12th?
– A war. I'm looking to go out there and win this fight as fast as possible. I'm training for a war, and really think it's going to be an exciting fight. I think it will be fight of the night, and will be exciting for the fans. I'm bringing my A game, and am hoping he brings his.
________________________________________________________________________________
My analysis:
As an MMA analyst, I have seen andstudied both John Kolosci and Scott Sands fight several times.  As one who trains and now becoming a fighter, I have shared the same mats as both fighters.  In my opinion, this fight can go either way.  I believe that unless one of the two knocks one another out, the fight will go to a decision, and it can go two ways.  A) The fight will result on who can get the takedown and maintain top position.  The one who does that, will be the one to take the decision by the judges.    Or…  B) The fight will be decided on who can defend takedowns and outstrike their opponent on the feet.   Sands being the better wrestler, and Kolosci being the better striker does not make this a striker vs grappler fight.  Kolosci has very solid wrestling, and Scott has good striking as well, so both will be able to counter act with eachother. Although a submission or knockout would be possible, they are as probable as a decision, therefore the fight will depend on who pushes the action more and can control their opponent.
Look to see some big exchanges withpunches early on in the fight, which will lead to a clinch.  The fighters will determine where they go from there, but there is no doubt the two will grapple with eachother to battle for top position.  Kolosci will most likely break away from the clinch and use his wrestling for his defense, and Sands will look to keep ahold of Kolosci andworkto take the fight to the ground.  In that battle to outwrestle eachother, a great possibility of gameplanning will be Kolosci looking to fight from the sprawl position, north-south, and back control – a takedown counter approach to gaining top position.  Sands on the other side will be looking for either a double leg takedown or a body lock to flatten Kolosci on the ground and look to stay out of his guard to gain side control and/or mount.  If the fight goes the way I am seeing it going, when the two are tied up with eachother we will see a wrestling clinic with reversals, counters, switches, and everything in between.  It will be as if a wrestling match allowed punches. 
The best part of this fight is not the wrestling action, not the stand up battles, and not even the concept of an up and comer with a promising future vs a UFC vet hungry to step back onto the big stage.  What makes this fight so special is the two individuals fighting.  Both have amazing heart and want to win.  They both eat and sleep fighting, and its running through their blood.  They show no fear towards anyone, and are willing to take on whatever is in front of them, giving the performance of their lives.  None show signs of quitting, none show mental weakness.  It is a true test of two warriors meeting in one cage, resulting in a test that will show not only the audience, but themselves who they really are. 
___________________________________________________________________________________
Pro's Opinions:
Whether its a coach, an analyst, or a fighter, this fight is on the minds of many people around the Chicagoland and Northwest Indiana area.  Catching up with several names and faces in Chicago/NW Indiana MMA, insight was given by many:
Fighters:
Deray Davis: "I think the fight between Scott and Kolosci will be a war.  Both fighters bring their own unique style to the fight.  Scott is a tough, hungry grappler who has a big chance to boost his career andmakea big name for himself with a win over Kolosci.  Kolosci is a very experienced, tough striker who's fought all over and top level guys.  Both fighters come from respectable camps.  This is the type of fight that fans will love whether you root for the underdog which people consider a very young, tough Scott, or root for the very experienced UFC veteran Kolosci.  Both fighters without a doubt believe that they've won already.  The fight fans will get what they came for without buying $600 seats.  I don't see neither guy taking a step back at all.  If Scott can get Kolosci to the ground and control him, then the win goes to him, but if Kolosci can use his experience and keepthe fight on his feet, he gets the win.  I know I wouldn't want to be a judge or a ref for this fight.  I'm looking forward to seeing both guys fight and I know both bust their butts and will come in top shape and very hungry to prove the other wrong."
Kevin English: "Well For Scott, this can really put him on the map, to come and and beat Johnny would be a huge step up for him, andwouldreally show he is a force to be dealt with. For Kolsci it would be his third or fourth in a row and would possible get him back into the UFC or help landamuch larger show. This is actually a huge fight for both of them and it can go either way!  Johnny has been fighting for quite some time andhasbeen around the block. His wrestling definitely has gotten better, and his stand up is very great.  He hits very hard for a 170 pounder; I've been hit by him. I also think that his ground game is much improved. Sands comes from a great wrestling back ground. He also has great compsure and great cardio. All around great fight, and great match up!!  Both fighters have a big heart andwill not give up. I think that they are both also equally as strong. They are different in that Sands comes from a wrestling background and Johnny comes from a Mauy Thai background, but they both have become very well rounded.
I won't pick a winner because I have trained with both and like both. I think for Sands to win he has to own position and GNP, and look to catch Johnny's, back. And for Johnny he has to stand and bang and move, and make it a stand up fight!"
Louis Taylor: "John Kolosci has had more exposure, but on September 12th he will get exposed!  Scott Sands will get the win, no doubt!"
Kevin Nowaczyk: "I know firsthand that Kolosci is tough… Strong guy who comes to fight. But Scott's technical and I"ll choose technique over strength any day.  I got sandman taking Kolosci's lights out via however he wants."
Jeff Serafin: "I think this fight has potential to be a classic. Sands has a wrestling edge for sure while Kolosci has a striking and experience edge.  I think the outcome truly depends on where the fight takes place.  If Sands gets the takedown and controls he will get a decision.  If Kolosci can keep it standing, land shots, make Sands work hard for takedowns he may get a TKO or a submission.  I am friends with both guys so I'm not going to make a prediction but it will be fun to watch."
Quinton McCottrell: "Scott Sands will beat John Kolocsi; it will be a decison.  Scott will out wrestle John and win a decison."
Joe Benoit: Kolosci will stop Sands in the second round, but I wouldn't underestimate Scott to survive the three rounds.  He could take Kolosci to a decision, but it would be a one sided decision for Kolosci.
Kevin Knabjian: "The fight between Kolosci and sands is going to be a good fight. Obviously sands has the wrestling advantage but kolosci trains with very good wrestlers and he has a lot of experience. I see this fight going to a decision. If Kolosci stops the takedowns and impliments his standup he wins. Sands gets the takedowns and keeps him down, he wins."
Coaches/Media
Steve Colon: "The advantage that I feel Scott holds over Kolosci is the wrestling back ground. Scott has been around the wrestling game for a long time.  The advantage that I feel Kolosci has over Scott would be the experience. Kolosci has been in the mmagame a lot longer.  I feel that they bothneed to win. This is a very important for bothfighters. I wish them both the best of luck."
Joe Pawlus: "I think if Sands takes John to the ground it is over. If it is a stand up fight, it will be pretty even and will probably go the distance. If this happens, Sands by decision. Otherwise, Sands will earn a TKO via G n P."
Ray Flores: "The John Kolosci/Scott Sands fight is a huge welterweight showdown between two extremely talented fighters. John Kolosci is a fighter who has been to the pinnacle of the mma world having fought for the UFC through TUF. He knows what it takes to fight at the highest level. His opponent Scott Sands is a young up and comer who is extremely hungry to get to the next level. Both know every single fight is their SuperBowl. Although both are very tough, my prediction for this fight is John Kolosci by unanimous decision.
1. John is a veteran and has fought Mac Danzig and in Japan. He knows what its like to mentally prepare yourself for the big show. He will be totally ready for the atmosphere of over 3,000 at the Lake County Fairgrounds for Duneland Classic. Its tough to tense up when you've fought for the biggest organization on the planet. Sands has only had around 6 fights total. You can't simulate in practice the experience Kolosci has.
2. Kolosci's experience is going to be a huge factor when it comes to the actual fight. Kolosci has 20 professional bouts. He has been in every situation imaginable both good and bad. He is going to come out and pepper Sands with front leg kicks which will take some steam off the shooting ability of the tremendous wrestling ability as displayed by Scott Sands. Its no secret Sands is an amazing wrestler with terrific gnp, but it will be Kolosci's ability to land front leg kicks and keep outside with his striking that will be a big factor. Although Sands' wrestling is terrific and will always come forward with constant pressure, Kolosci trains at Gilbert Grappling with guys like Chase Beebe, Jay Buck,  Tommy Lee, Joe Benoit, and Joey Gilbert. Those are extremely talented fighters who make for excellent training partners.
Kolosci does a terrific job of minimizing the amount of takedowns Sands is able to get. He will use superior striking staying on the outside and when on his back, go for several submissions. Sands is going to be a star in this sport without question, but its Kolosci's time to get one step closer to fighting for the UFC. The fans at the Duneland Classic are going to be the real winners in this fight."
More coming soon
______________________________________________________________________________________
Come September 12th, we will all see which of the two fighters will persevere.  The sacrifices made will pay off, and glory will be rewarded.  John Kolosci and Scott sands will face off at the Duneland Classic VI, located at the Lake County Fair Grounds in Crown Point, Indiana.  Doors open at 6:00 PM and fights start at 7:00 PM.  Address: 889 S Court St, Crown Point, Indiana.
Comments
comments
Powered by Facebook Comments